Three-dimensional bone grafting using custom-milled bone ring transplant – introducing Zenoss Ring.
The ring allows immediate implant placement and bone augmentation in one step. The use of a ring eliminates the need for a second surgical procedure, shortens total treatment time and increases patient acceptance.
This bone ring transplant can be used successfully in most defects, including large 4-, 3-, 2-, and one-wall defects, as well as vertical augmentation procedures, including sinus lifting.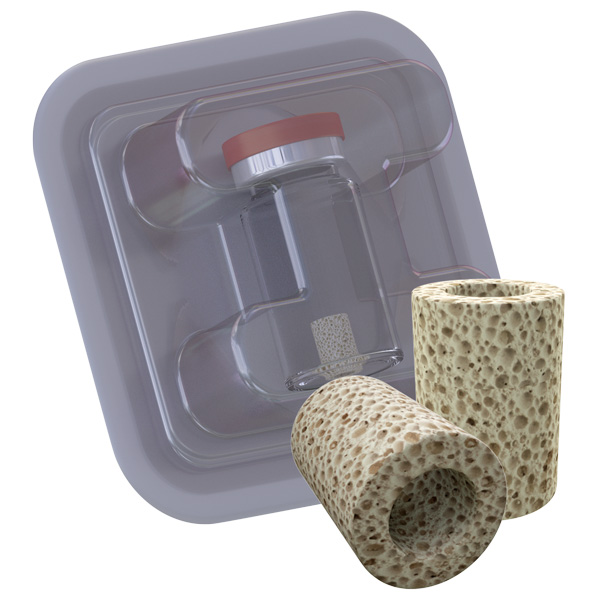 Dental implant therapy often requires bone augmentation. This helps to achieve stable implantation with a  long-term predictable and aesthetic outcome. However, this requires a series of surgical procedures, barrier membranes, to direct the growth of new hard/soft tissues. The most popular type of GBR is a two-stage approach, which involves the use of a bone graft and regenerating a ridge ready for the ultimate placement of a dental implant in a second procedure. This approach has clear drawbacks, as the patient must consent to two surgeries (increasing total treatment time and reducing acceptance) and a chance of bone resorption at re-entry (may require additional augmentation). Implant loading occurs 6 to 12 month after the initial procedure may not meet the patient initial expectations. This is especially true for the maxillary anterior region where a lack of vertical bone volume prior to the implant placement leads to poor aesthetic outcomes.
The ring technique utilized a prefabricated ring of bovine bone (Zenoss graft) that is fixated in a one-step procedure at the osteotomy created to stabilize the ring and apical treads of a dental implant. The osteotomy prepared with a trephine drill of a corresponding diameter to ensure precise contact between the Zenoss ring and a native bone. This helps to reach the elimination of graft mobility – a key to success for GBR treatment. The internal diameter of the Zenoss rings corresponds to either a 3.3-3.5 or 4.0-4.2  diameter implant, which is secured in the apical bone, providing additional stability to the complex.
Indications:
Vertical augmentation
Single tooth gap
Large post-extraction sites with three/four-wall defects
Highly-aesthetic maxillary anterior zone
Sinus grafting
Features:

• Predictable bone augmentation
• No need to harvest bone, so the associated risk of infection, donor-site morbidity and pain can be avoided
• Improved initial implant stability.
• Successful in ridge defects, effective in sinus floor elevations
• Reduces the overall number of procedures and a treatment time is reduced for a gratifying patient acceptance
| | | |
| --- | --- | --- |
| Ring 6mm dia, 10mm length |   For implant 3.0-3.5mm |   ZGR33160 |
| Ring 7mm dia, 10mm length |   For implant 3.3-3.75mm |   ZGR33170 |
| Ring 7mm dia, 10mm length |   For implant 4.0-4.5mm |   ZGR33174 |