DSI UniLite Flow composite is robust and highly potent material, indicated for quick and simple repairs on micro-hybrid and nano-fill restorations and small occlusal repairs of all types. While most employed in class III, class IV, and class V, restorations, the UniLite Flow has plenty of uses in dental processing including temporary crown repair, pit, and fissure closing, porcelain and veneer repair, minor core build-up and as a part of a liner-base technique. UniLite flowable composite possesses the exceptional flexural and tensile strength comparable to the best market hybrid composites. It's radiopaque so the material can be easily distinguished from tooth structure – comes in handy in complicated case restorations. The UniLite Flow material could be used to produce exceptionally esthetic restorations, and available in a wide range of shades including opaque and semi-transparent for the incisal edge. DSI UniLite Flow composite shows several characteristics that make it a superb alternative for indications with this category of composite resin restorative materials. One of the numerous advantageous properties of UniLite Flowable composites is their ability to repair the hard-to-achieve placed defects at the composite restorations. Excellent handling capabilities and ideal viscosity make it the right choice for the wide range of restoration types. UniLite Flow is a high strength flowable composite whose physical properties are near to the non-flowable composite materials that permit the robust and safe use of indirect restorations (classes' I-V). It is made using an advanced nanofiller technology which leads to exceptional physical properties. UniLite Flow has high-level radio-opacity combined with the best viscosity allows for simple use and horizontal placement. The composite could also be placed and light-cured in increments up to 2.5mm each layer. Although an innovative performance curing units are shown to cure 2mm increments of most shades of UniLite Flow in ten seconds for darker shades further curing cycle is suggested. UniLite Flow can be polished right after the curing. Owing to the stackable nature of UniLite flow precise placement is probable and may be determined, minimizing the necessity for gross finishing. If necessary, the gross excess could also be removed with DSI finishing burs or different inorganic compound finishing instruments. It's essential to use the silicon polishers to achieve a high luster. The UniLite Flow composites showed outstanding surface quality and great adhesive ability. Also, the application of flowable composites resulted in statistically higher tensile strength. The UniLite Flow characterized by its excellent bond strength, low shrinkage pressure, and shade matching superiority.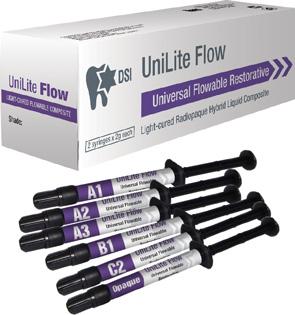 Features:
• Anterior restorations (Class III and IV).
•  Deep Class V restorations (cervical caries, root erosion, wedge-shaped defects).
• Restorations in the posterior region (base/liner) (Class I and II).
• Veneering of tarnished teeth / Orthodontic splinting.
• Restoration of composite and hypertensive and ceramic veneers.
• Orthodontic splinting.
Additional use ideas:
• Minimally invasive category I or II restorations.
• Class II restorations as a base or liner beneath composite restorations.
• Bonding of dental orthodontic brackets (especially the lingual type) and after-treatment retainers.
• Splinting broken and mobile teeth (post-trauma or periodontics' involvement).
• Repairing little direct and indirect restorations.
• Class VI restorations in non-stress bearing areas
• Great fissure sealer