DSI UniLite Dam is a light-cured resin barrier used to isolate and protect soft tissue with an impervious seal (dubbed "Light Curing Whitening Dam"). The DSI UniLite Dam resin material based on light curing technology and serves for the gingival protection purposes. It saves gums from any possible damage caused by bleaching agents during the tooth whitening process. Provides adequate flow-ability for ease of use, short irradiation time (15 seconds) and easy removal after the treatment. It applied directly, and easily removed after the treatment, giving you peace of mind without sacrificing efficiency or patient comfort.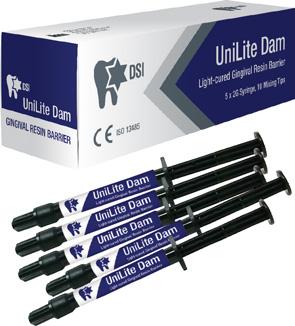 Features:
• Protects soft tissue with the impervious seal.
• Viscous solution is easy to apply.
• Deep-blue color for easy oral-field visibility.
• Light-reflective properties focus heat away from the teeth and gingiva for patient comfort.
• Direct application.