UniLite is a light-cured, micro-hybrid filled, radiopaque, highly polishable universal restorative filling material according to EN ISO 4049. The UniLite Universal Composite can be used for both posterior and anterior zone, in a wide range of Class I-VI restorations. UniLite Restorative – features an advanced radiopaque nano-filler based on the multi-functional particles sized from 0.1-3 microns (65% by volume) with a mean particle of 75 µm. The result is an easy-to-handle, very sculptable, yet durable material with excellent aesthetic characteristics and just the right opacity to reduce the need for the opaquer composites. UniLite Composite cures with an LED and Halogen light at a wavelength range of 400 – 500 nm. Indicated for use in restorations that require high strength and more opacity. Shade matching has been optimized for the Vita® System. A1, A2, A3, A3.5, B1, B2, C2, Dentine Universal.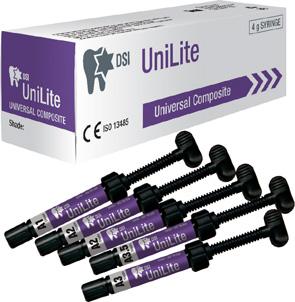 Features:
• Combines strength and aesthetics for both anterior and posterior restorations.
• Reliable handling.
• Exceptional wear resistance. Polishability.
• Optimum shade selection.
Advantages:
• It can be successfully used for both posterior and anterior areas.
• Superior tensile strength and low polymerization shrinkage.
• Polishable to a high-gloss finish
• Very practical and cost-effective
• Highly sculptable and easy to apply
• Outstanding physical properties and unmatchable wear resistance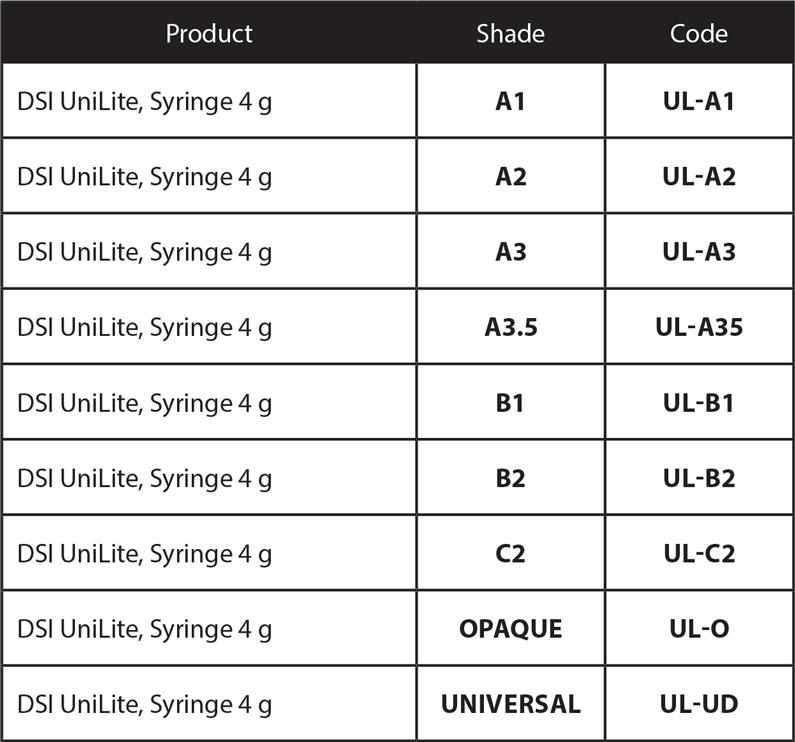 UniLite -Complex Treatment LC Composite Kit contains: