DSI UniLite Block-Out Resin provides reservoir space, covers up individual bleaching tray and protects it from the sanding process. Due to its unique formula, UniLite Block can fill up the voids that are have not been captured in the impression. It is used for laboratory procedures such as model and dies repairs, blocking out undercuts on teeth impressions. UniLite Block Out Resin does not heat up during light cure, preventing discomfort and harm to the tissues.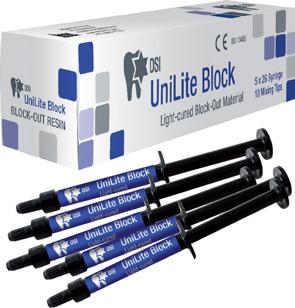 Possible uses:
• Single component material blocks out defects and undercuts on the model quickly, precisely and securely.
• Simple application.
• For creating reservoir space on bleaching trays.
• Blocking out undercuts.
• For laboratory mock-up and models.
• Easy to remove.