DSI Ultrasil Reline is a silicone-based, soft denture relining material without an unpleasant odor or taste and strong adhesion, great durability, and exceptional resistance to tear and abrasion. It is capable of withstanding wear for up to two years. The cartridge dispensing system offers an economic and no-mess solution that could be used both chair-side and during the laboratory denture relining.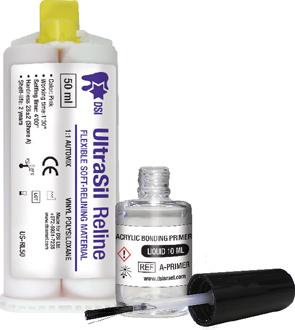 Features:
• Comfortable operating time/setting time ratio.
• Easy handling
• Direct application to the denture
• Strong adhesion
• Amazing tear strength.
• Non-sticky. Very smooth.
• Easy to polish
• Permanently soft with long-term durability
• Easily trimmed with a rotary cutter.