turbodent
turbodent
spray head
bottle of mectron prophylaxis powder, contents 250 g
bottle of mectron glycine powder, contents 100 g (only in Europe)
spare water filter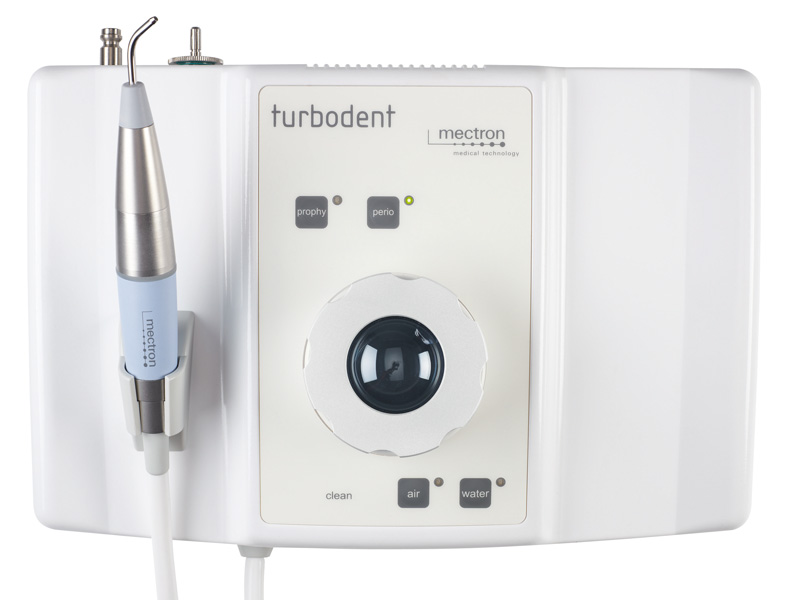 The turbodent is a stand-alone unit focused specifically on air-polishing. As the underlying technique is identical with the combi unit, the turbodent can also be switched easily from supragingival to subgingival treatments.
A QUESTION OF CHOICE
the right powder for the intended use
Traditionally sodium bicarbonate powders are used for air-polishing procedures. Used in a proper and not excessively intense manner, the risk of harm to the enamel is minimal. For additional applications more gentle powders have been developed during the last years. Especially glycine, a natural amino acid, opened new indications for air-polishers, the most important being subgingival removal of biofilm.
PERIO FUNCTION
The turbodent is equipped with the new perio function. Simply pressing a button adapts the air pressure to provide for safe subgingival treatment with glycine powder.
TECHNICAL SPECIFICATIONS
Device compliant to Dir. 93/42/CEE: 
Class II a
Classification as per EN 60601-1:
II
Type B
IP 20 (device)
IP 22 (foot pedal)
Device for intermittent operation:
60 sec. ON – 30 sec. OFF with irrigation
Power supply voltage:
230 Vac 50/60 Hz
120 Vac 50/60 Hz (optional)
115 Vac 50/60 Hz (optional)
100 Vac 50/60 Hz (optional)
Max. power absorbed:
95 VA
Fuses:
230 Vac – Type 5 X 20 mm T 500 mAL, 250V
120 Vac – Type 5 X 20 mm T 800 mAL, 250V
115 Vac – Type 5 X 20 mm T 800 mAL, 250V
100 Vac – Type 5 X 20 mm T 800 mAL, 250V
Water supply:
Stepless adjustment, water heated by built-in heater
Connection by hose supplied with quick-coupling connector through a built-in removable filter.
Working pressure from 1 to 6 bar
Air supply
Connection through supplied hose with quick- coupling connector through a built-in filter and pressure reducing valve.
Input pressure between 4 and 8 bars.
Working pressure:
Prophy function = 3,5 bar
Perio function = 2,7 bar
Operating conditions:
from +10°C to +40°C
Relative humidity from 30% to 75%
Pressure of air P: 800hPa/1060hPa
Transport and storage conditions:
from -10°C to +70°C
Relative humidity from 10% to 90%
Pressure of air P: 500hPa/1060hPa
Weight
3,2 Kg
Size (L -W – H)
280 x 185 x 100 mm
Warranty
device 2 years; handpiece and handpiece cord 1 year