TOP Post-Extraction Placement System
This kit is used for immediate placement of dental implants in all areas, regardless of the existence of a root septum.
Improves primary implant stability and guarantees a predictable osseointegration
Easy and effective working technique:
1. Tooth extraction
2. Extraction site cleaning with a diamond burs
3. Initial Drilling with 2.0 Lindemann
3a. In case of molars with a septum, use round tip diamond marking drill and trephine instead
4. Expansion of the hole with 3.0&4.0 Safety Diamond Bur
5. Implantation
TOP System – small, yet very cost-effective kit that would fit any dental surgeon's arsenal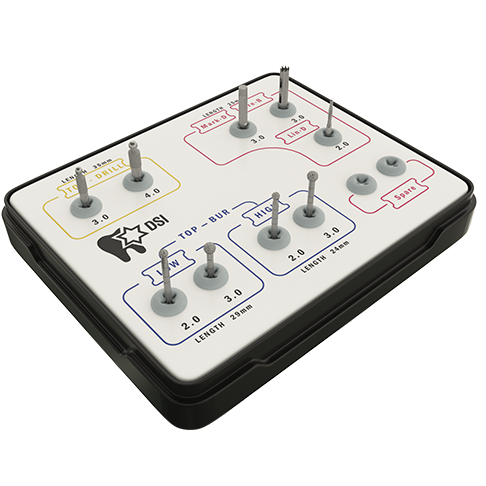 Top Kit Contents:
TOP Burs
Extra-coarse Diamond burs help to remove inflammation or soft tissue after extraction. Fast removal of degranulation debris without the damage of osseous tissue.
Provided in High Speed Turbine and Low Speed Latch variations.
Diamond Marking Drill 3.0
Drill for precise marking of the septum area – marks-on an accurate spot without slipping – thanks to the special diamond-coated tip.
Trephine 3.0 Bur
Trephine drill for forming initial ossteotomy and collecting the autograft bone.
TOP-Drill 3.0 & 4.0
Safety-tip drill with a diamond coating – expands the ossteotomy along the initial hole.
Lindemann Drill
Universal surgical drill that can cut the bone in any direction, making a hole even at inclined spots with moving.
Product name: TOP Kit
Code: SD-TOP