DSI Sinus Lift Lateral Approach TOLA2 Kit
The kit includes all the instruments necessary for an easy lateral sinus lift – from start to finish.
DSI TOLA2 Kit allows a simplified, less traumatic and gradual sinus lift procedure with a reduced risk of unintentional membrane perforation.
The stopper system provides the surgeon with total control over drill depth to prevent over-drilling and soft tissue damage.
The drills feature a unique tip design that was specifically engineered for the phases of the lateral approach surgical protocol.
The drills are designed to create and widen a lateral sinus window.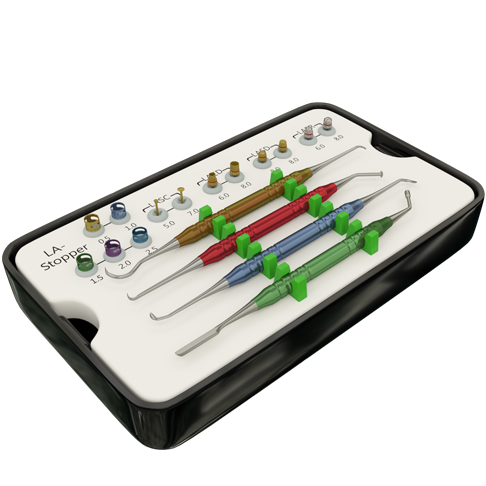 Features:
• Improved safety and predictability of the lateral sinus lift procedure
• Stopper system for maximum safety
• Minimized membrane perforation risk
• An excellent cutting ability of the drills
• Reduced chair time, patient discomfort, and chance of associated complications
• Includes all the necessary instruments
Tola II Kit Contents:
4 Sinus Curettes
Used in endoscopic sinus procedures to elevate the membrane and separate the Schneiderian membrane from the maxillary bone
5 Drill Stoppers
nsure safety, complete control and prevent perforation or tearing of the sinus membrane. Stopper heights are the following:
• 0.5mm
• 1.0mm
•1.5mm
• 2.0mm
• 2.5mm
2 LASC Lateral Approach Side Cutters:
Used to trim and expand formed sinus lateral window. Made with a special diamond coating that prevents overheating, and efficiently removes the bone.
Sizes:
Ø5.0mm / L 29mm
& Ø7.0mm / L 29mm
2 LACD Lateral Approach Core Drills
Designed for safe perforation of the lateral wall.
Sizes:
Ø6.0mm / L 25mm
Ø8.0mm / L 25mm
2 LASD Lateral Approach Sinus Drill
Used to open lateral window at the site if you have no access to use the core drill.
Sizes: Ø8.0mm / L25mm for both
Spherical and Rounded Square Shape
All the drills above are diamond + Titanium Nitride golden coated; they are safe, stable, will not vibrate, will not overheat, and have an excellent cutting ability that lasts.
2 LASR Lateral Approach Sinus Reamer made of Tungsten Carbide
Sizes:
Ø6.0mm / L 25mm
Ø8.0mm / L 25mm
Product name: TOLA II Kit
Code: SD-TOLA