Crowns and most bridges are fixed prosthetic devices. Unlike removable dentures, that can be taken out for cleaning and maintenance, crowns and bridge are cemented on implants or existing teeth and can only be removed by the dentist.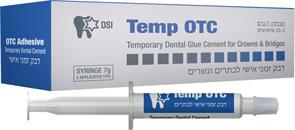 But what to do if the dental crown falls?
DSI Temp OTC is ready to use temporary fixation material. Adequate strength yet easily removed. Supplied in the pre-mixed syringe, for easy and non-messy application. So easy that can be used by a patient for self-fixing of loose crown or bridge while waiting for the planned dentist visit.
DSI Temp OTC has a two-stage setting. Initial fixation takes 3-5 minutes, while the crown still can be removed for reposition. OTC Cement takes approximately 15 minutes to set in intraoral conditions. This hydrophilic material is fully cured with oral cavity moisture during the next 3 hours. DSI Temp OTC is expanding and hardening at the same time, which provides an excellent and tight marginal seal.
Features:
• Maximum strength
• Clinically proven professional material
• No mixing. No waste
• Ready to use
• 25+ repairs
• Over-the-counter product
Product indications:
• For replacing loose caps, crowns and bridges.
• Repair of lost fillings
• Perfect for self-use when travelling or waiting for a dentist's appointment