starjet
Equipment set
1 starjet
1 spray head 120°
1 spray head PERIO
1 pack of subgingival perio tips (40 pcs)
1 wrench K9
1 prophylaxis powder smooth bottle (250g)
1 prophylaxis powder sensitive – glycine powder bottle (160g)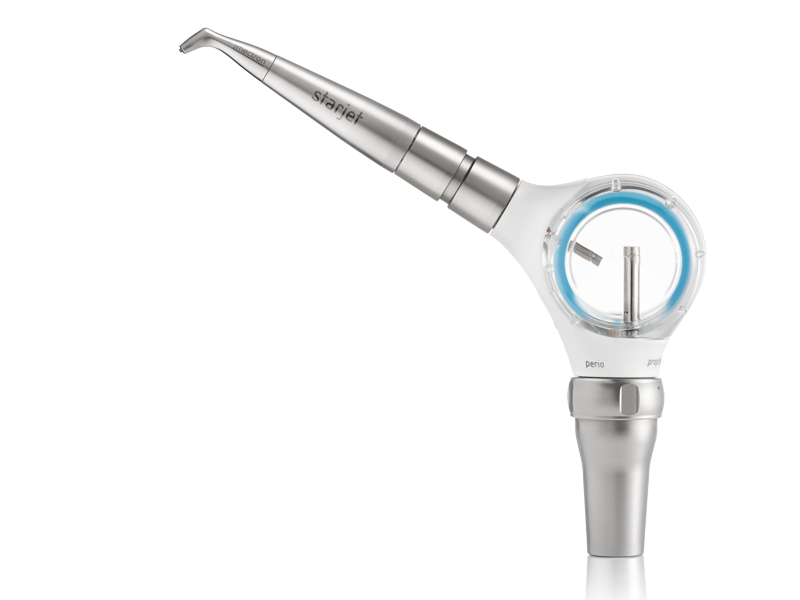 starjet – basic
Equipment set
1 starjet
1 spray head 120°
1 prophylaxis powder smooth bottle (250g)
1 prophylaxis powder sensitive – glycine powder bottle (160g)
connectors
Bien Air Unifix and Unifix L
KaVo multiflex and multiflex lux
Sirona R and B
W&H Roto Quick and Roto Quick lux
NSK FlexiQuik
Midwest
Borden
ONE DEVICE, TWO INDICATIONS
With the flexibility of choosing the appropriate powder, you can easily switch from supra- to subgingival by simply turning the selection ring between prophy and perio.
3 DIFFERENT NOZZLES,
TWO LENGTHS
Always best access – 90° and 120° angled spray nozzles for supra- and subgingival use in periodontal pockets up to 5 mm depth.The Perio nozzle equipped with the disposable sterile Subgingival Perio Tip provides optimal access in pockets deeper than 5 mm.The optional nozzles are also available in two lengths, for greater efficiency and flexibility. Just one click connects the nozzles safely to the air polishing handpiece,thanks to a dedicated security connection system.
ADVANTAGES
easy filling
Refills are clean and simple due to the lateral opening of the powder chamber. No balancing act or messy spills.
transparent powder chamber
For the best powder level visibility.
Subgingival Perio Tip
Flexible and soft – the subgingival, disposable Perio Tip will come sterile and attaches easily to the perio nozzle by hand.
7 different turbine adapters
Bien Air Unifix and Unifix L
KaVo multiflex and multiflex lux
Sirona R and B
W&H Roto Quick and Roto Quick lux
NSK FlexiQuik
Midwest
Borden
A QUESTION OF CHOICE
the right powder for the intended use
Traditionally sodium bicarbonate powders are used for air-polishing procedures. Used in a proper and not excessively intense manner, the risk of harm to the enamel is minimal. For additional applications more gentle powders have been developed during the last years. Especially glycine, a natural amino acid, opened new indications for air-polishers, the most important being subgingival removal of biofilm.
SUBGINGIVAL AIR POLISHING WITH MECTRON GLYCINE POWDER
Glycine powders have much smaller particles (D50 < 25 μm) than sodium carbonate powders and are water soluble. They have a sweet taste.
Allows safe and efficacious removal of subgingival biofilms in patients receiving periodontal maintenance care. The removal of intra-oral biofilm in patients with orthodontic appliances and the prevention or treatment of peri-implant infections can be added to the extensive list of air-polishing applications with easyjet perio and  mectron glycine powder.
reduction of pocket depth
The use of a glycine powder leads to a reduction in pocket depth comparable with conventional scaling and root planing*. The benefit is easier handling, faster treatment and better patient acceptance. Patients report less pain and a more pleasant taste with glycine powders.
TECHNICAL SPECIFICATIONS
Device compliant to Dir. 93/42/CEE: 
Class II a
Device for intermittent operation:
60 sec. ON – 30 sec. OFF
Water supply:
Standard water pressure provided by the dental unit for a turbine:
from 1 to 3 bars (from 1000 hPa to 3000 hPa), max 40°C
Air supply
Standard air pressure provided by the dental unit for a turbine:
from 2.0 to 3.0 bars (from 2000 hPa to 3000 hPa)
Operating conditions:
from +10°C to +35°C
Relative humidity from 30% to 75%
Pressure of air P: 800hPa/1060hPa
Transport and storage conditions:
from +10°C to 35°C
Relative humidity from 10% to 70%
Pressure of air P: 500hPa/1060hPa
Weight and size
155 g
L – l – h 200 x 90 x 50 mm
Warranty
device 1 year