DSI offers a wide range of impression coping transfers for both closed and open techniques. DSI's wide range of impression copings can be used to plan an efficient & precise restorative plan for a single tooth, bridge or a full denture. All DSI transfers are made out of outstanding high tensile, strong and tough titanium alloys (Ti6Al4V ELI), with no exceptions.
Open Tray Technique:
Designated for cases where the implants are not parallel to each other to allow an impression to be taken from multiple impression copings. In this procedure, we are to make a preliminary impression of the designated arch. The custom-made impression tray is prepared by punching a hole in the proximate vicinity of the implants placement area, allowing the guide pin to protrude through the impression tray.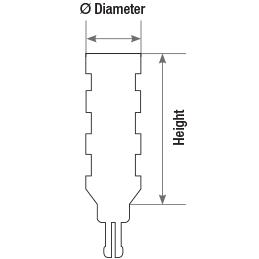 Essential components for the open-tray impression technique:
• Open impression coping transfer
• Analog
• Guide Pin
• Hex Driver (1.25mm)
Closed Tray Technique:
Closed tray impression technique is used when the implants are parallel enough to allow an impression to be withdrawn from multiple impression copings, or in a case where we stumble upon a limited interarch distance and an inadequate space for the use of screw-retained impression coping (Open Tray Technique). To accomplish this procedure, a DSI closed tray impression coping abutment is placed on the implant and then covered by a plastic cap.
Essential components for the closed-tray impression technique:
• Closed impression coping transfer
• Impression coping plastic cap
• Analog
• Fixation Screw
• Hex Driver (1.25mm)