Many dental appliances, even dentures, require repair. The acrylic they are made of can erode or fatigue during the years. Worn and thin dentures are prone to breaking. A most common cause of the fracture is a poor denture fit. Besides mechanical stress, the reason is more complex. Dentures worn for long periods of time with minimal rest to the denture-bearing tissues, lead to irritation of the soft tissues, depriving them of blood supply and also leading to resorption of the supporting bony foundation. The unbalanced denture may move around in the mouth and cause the application of more force to certain points (and, as the result- microfracture). Impact damage, caused by dropping loosely fit denture from a mouth is also common. Luckily, dentures are made from acrylic resin. This material is durable, comfortable, aesthetic and the most important –  allowing for denture repair.
There is never the right time for your denture to break. We know it is important to get your denture fixed as soon as possible. DSI Repio Fix kit was built with the non-professional user in mind, giving you the repair immediate solution. But dentists will also love this kit as a chairside quick-fix option of dentures that are not severely broken.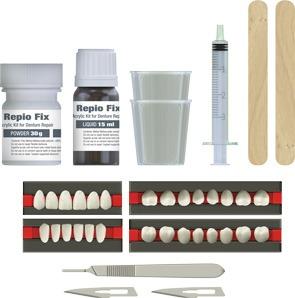 Advantages:
• Fix Breaks, Mend Cracks, Replace Loose Teeth
• Easy to use.
• Step-by-step illustrated instructions covering all the possible scenarios.
• Allows quick follow up treatment.
• Self-adhesive – Allowing additions to be made.
• Enough for up to 6 full denture repairs .
Repio Fix Denture Repair Kit Contents:
Powder – 30 g
Monomer Liquid – 15 ml
Dosage Syringe
Acrylic denture full set (4 cards)
Scalpel Handle & Scalpel Blades
Measuring Vials
Mixing Spatulas
Alcohol Prep Pads
Emery Cloth
REF Code: REP-FX
After a home repair, you should get your dentures professionally repaired or replaced as soon as possible.