On completion of orthodontic treatment, the residual resin left behind after bracket debonding must be efficiently cleaned while preserving enamel surface.DSI Adhesive Removal Zirconia Bur is an efficient alternative to Tungsten Carbide. It has a latch shank and can be used with a contra-angle handpiece, like any other TC bur.
Suggested speed is between 10,000 and 20,000RPM. Contrary to conventional adhesive removers on the market with a sharp or tapered tip, DSI Adhesive Removal Bur features a rounded safe tip. The whole bur is made of one piece of special ceramic consisting of yttrium-stabilized nano-structure zirconia.
In contrast with metals, it does not overheat, giving an extra comfort to patients. DSI Adhesive Removal Bur is easy to clean and autoclave-save, thus guaranteeing a long service life.
Zirconia Debonding Bur is highly break-resistant and is able to withstand pressure. The sterilization process is identical to that of other surgical instruments: After using the bur, remove deposits with water, plastic brush, detergent enzyme and sterilize by autoclaving at 134 ° C for 15 minutes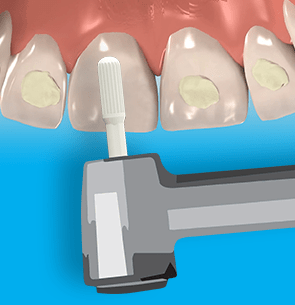 In addition, after the cleaning, enamel surface must be smoothed and polished to prevent further plaque accumulation.
The Disposable Finishing Tip is made from glass-fibre reinforced resin and makes an excellent addition to the zirconia adhesive remover bur. It is also may be used to remove cements or resins from the dental surface, but especially efficient in recovering the glare and smoothness characteristics of dental enamel after the orthodontic treatment. Extra-smooth finishing decreases the possibility of bacterial retention and inhibits plaque buildup.
Features:
Made from biocompatible highest quality zirconia / glass-fibre reinforced polymer resin
Can replace both Tungsten Carbide Burs and Silicone Polisher
Effective on low-speed contra-angle
Allow working without overheating
Durable and precise, it's operated with a brush movements
Zirconia is easy to clean, autoclave and reuse without losing efficiency
Minimize bthe risk of damaging soft tissues and enamel.