DSI Angulated Ball Attachment has become the most reliable and effective tool providing high aesthetics in full/partial overdenture cases with non-parallel placement. Its unique structure allows it to attach the overdenture lower than any other attachment system. DSI Angled Ball Attachment is made as a one-piece, there are no moving parts in it. Such a structure makes it much more stable and durable for a longer period of time. DSI Angulated Ball Attachment establishes a secure fit between the ball attachment and the implant, minimizes micro-movements, ensures a very tight marginal seal and protects the implant's crestal zone from oral cavity clutter penetration. Unlike any other multi-piece attachments, all the body of this ball attachment can be hidden in the gingival submerge level, which makes the final restoration very aesthetically attractive. While available in sets, DSI Angulated Ball Attachment Kit is ready to use solution that has not only the ball itself but also different strength silicone female inserts and a titanium housing.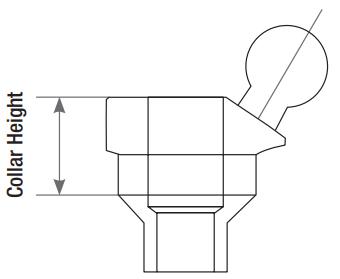 Highest quality silicone inserts that have been made in Italy by the leading manufacturer of spherical attachments in the world nowadays and titanium housing form the top-tier titanium alloy, made with exceptional precision to adapt perfectly to each other and hold tight. Made on newest generation CNC machines, in a new and completely different level of quality and precision. The retention mechanism is based on the newly designed friction-retentive grip with a defined withdrawal force.
Suitable for all-on-4/all-on-6 and partial denture restorations.
• Functional and easy application.
• Solid one-piece structure for more durability and stability.
• High-quality, clinically proven materials (Titanium Alloy Grade 23).
• Precise, stable retention.
• Compact design for a high level of wearing comfort and ease of cleaning.
• Attractive price/performance ratio.