Allograft Bone
DSI Alyoss cortical cancellous bone graft is applicable in cases where a scaffold and longer resorption is required. It can be used alone mixed with an autogenous bone in order to increase the osteoinductive properties of the graft. As with all DSI bone grafting materials, the source bone is prepared to stringent standards and only EU-registered tissue banks are used for the graft production. Bone is harvested from the different sections of the ilium and ground into several particulate sizes. It results in the unique combination that gives this product the ideal cell structure of cortical, with the open scaffold and support offered by cancellous bone types. DSI Alyoss Plus is the premium blend of two most popular allograft particles used in dentistry – cortical and cancellous – all in one convenient syringe.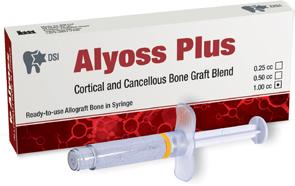 The procedure of use is simple:
1. Pull the plunger and tap the syringe to prepare the graft inside
2. Remove the external cap and rehydrate the material with sterile saline or patient's blood.
3. 20% saline / 80% blood combination is recommended.
4. Return the plunger to remove the excess liquid through the filter cap.
5. Twist of the filter cap and deliver the DSI Alyoss Plus graft to the site.