DSI 4D is a new&complete "all-case" zirconia blank.
It was made to satisfy the growing requests of today's market.
The ultimate dental zirconia blanks should meet four demanding criteria:
• Multilayer colour gradient with natural shade transitions – for the best aesthetic
• Layer-varied transparency with an anterior translucency for incisors
• High structure strength to support any bridgework – better with a proper strength gradient to mimic real tooth properties
• Fracture toughness to resist chipping.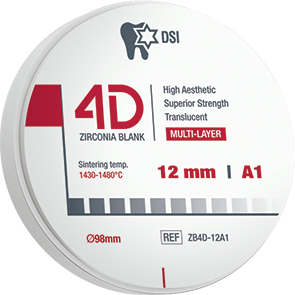 The DSI 4D blanks, made of multilayered full-contour zirconium oxide, impress with a layer by layer varied translucency and flexural strength, a multi-layered colour gradient, an anterior translucency for incisors, high stability for the construction of all bridge frameworks and high flexural strength against split-off. The blanks are especially suitable for highly aesthetic zones and single-tooth restorations, but applicable for various indications including total bridges.
Natural beauty, aesthetic, strength and long life-span in one, that's why we call it 4D. When the dental technician has no limits, and can easily produce highly aesthetic restorations, allowing to compete against low-end dental prostheses, this is where the Art begins.
Physical properties:
| | |
| --- | --- |
| Colour | Vita 12 shades + Bleach |
| Translucency |  43-46.6% |
| Bending strength |  1300-1027 MPa |
| Sintered density |  >=6g/cm3 |
| Fracture toughness |  4.3-5.1 MPa*m |
| Sintering temperature |  1480°C (recommended) |
Most popular 98 disc shades & thicknesses REF codes