The new Scan Powder Spray is suitable for both direct (intraoral) and indirect (model) application. 75 ml canister is economical, convenient and long-lasting.
The specially designed spray nozzle gives you full control of the application and can be turned 360 degrees to reach all intraoral quadrants.
The fast-drying formula with fresh mint flavour is easily removed with simple water spray.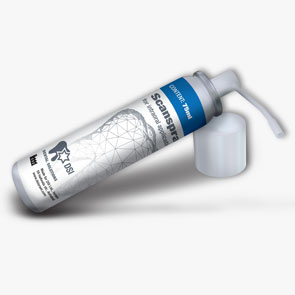 Advantages:
• Finest quality intraoral scan spray.
• Improves scanning accuracy and detail.
• Extremely thin, uniform powder layer, under 3 microns.
• Immediate drying.
• Pale white colour and mint scent.
• Replaceable extra-long application nozzle with non-clogging micro tip.
• Economical and easy to apply in the 2.5 oz (75ml) can.